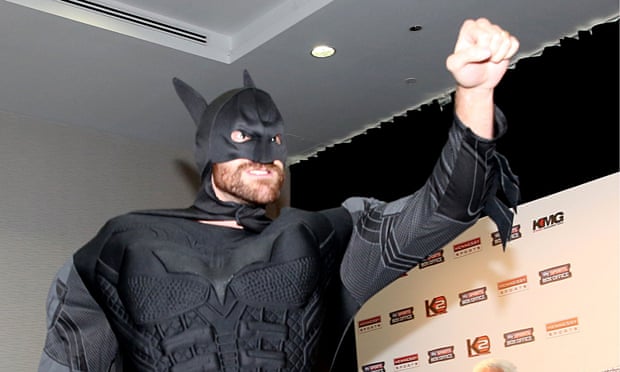 This week Tyson Fury and Wladimir Klitschko held a press conference to promote their upcoming fight on October 24th.  In boxing, heavyweights are the glamor division, even when the talent all seems to be gravitating toward the middle divisions, so it's no surprise that promoters will from time to time resort to vaudeville-style tactics to draw interest.  WWE has made an industry out of this strategy, and as I pointed out in a recent post, the debate about Floyd Mayweather fighting Rhonda Rousey is similarly undignified in its appeal to fans' primitive instincts.  Tyson Fury may have taken the game up a notch in the recent press conference, however, with a low-budget attempt at buffoonery seemingly meant to demonstrate some unapparent sense of humor.  Dressed as Batman, he perpetrated a battle between himself and his cousin, cleverly disguised as the joker, contriving a struggle to knock over the display of Klitschko's championship belts.  Fury is always less than elegant in his interviews and in his general behavior, but this was a new low in sophistication even for him.  He proceeded to rant about his reign as a "Gypsy king" and how Wladimir had fought weak competition.  It goes without saying, but just so we're all on the same page: Fury has 24 wins while Klitschko has 64; Fury has had arguably three or four notable opponents, Klitschko is within two fights of the record for most heavyweight title defenses in history.  These histrionics from Fury are no different from the transparent, vulgar bravado put on by David Haye, which quickly dissolved once they were actually in the ring together.
On the other hand, doesn't this cartoonish melodrama surrounding Klitschko's next opponent seem eerily familiar?  It wasn't long ago that Dereck Chisora and Shannon Briggs were staging water-throwing fights with Wladimir in promotional altercations before their respective fights.  Throwing water was an odd enough choice for Klitschko's previous opponents, but if Fury was going to do a little Batman sketch, couldn't he have invested more than $20 in materials?  They looked like the costumes you end up with when you go Halloween shopping on October 30th.  Then again, maybe that was the intention.  It makes you wonder, maybe this is Dr. Steelhammer's cure for a boring division and waning ticket sales.  It would certainly make sense if the well-learned champion took a page from the world of professional wrestling in order to boost interest in his fights, which have often been criticized for his technical style.  The formula sure seemed to work with David Haye, who no one really believed could beat Klitschko, but everyone thought would be satisfying to watch get knocked out after incessantly running his mouth.
Either way, the upcoming fight is sure to interesting.  In terms of physical contrast, Klitschko will be lean and solid, brimming with technical ability, while his gargantuan opponent, at 6'9″, will be flabby and sloppy.  It's not often we see Klitschko fight a larger man, and while Deontay Wilder is only 6'7″, the Fury match could be a good model to predict how that fight would turn out.  It could also be one of Wladimir's last performances, with his brother having already retired, and little desirable opposition left in the division.  The Klitschko legacy is totally secure, but it'll be fun to watch the aging champion show what his years of experience and dedication have produced, and whatever theatrics might ensue, I'm looking forward to tuning in for The Klitschko Show.